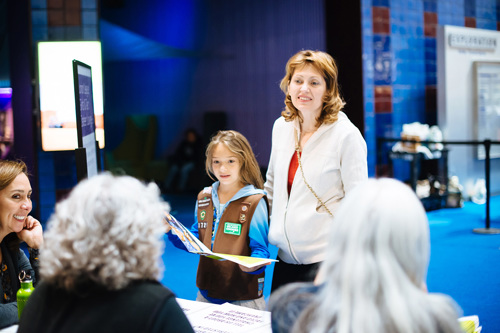 Standard chaperone ticket cost is $20 and includes general admission. 

Chaperone tickets for Robotics programs also include admission to the IMAX film "Robots". These tickets are $24 each.

A chaperone ticket does not guarantee access to the classrooms. You may only enter a classroom if you are an adult authorized by the Girl Scouts (troop leader or troop parent).
The Tech Interactive follows the chaperone ratio required by Girl Scouts of America. Due to room capacities, chaperone numbers beyond the recommended ratio may not be accommodated in the program. Please consult with your troop to determine who will chaperone the program.



Daisies: 1 chaperone per 3 Girl Scouts
Brownies: 1 chaperone per 6 Girl Scouts
Juniors: 1 chaperone per 8 Girl Scouts
Cadettes: 1 chaperone per 10 Girl Scouts
Tickets can be purchased online by clicking on your desired date above, or by calling Group Reservations, 1-408-294-8324.