Solve for Earth
The Solve for Earth exhibit at The Tech Interactive creates a space where we can discuss as a community how to live sustainably and reduce the impacts of climate change. Solve for Earth looks at the whole picture: where we live, what we eat, how we move and more.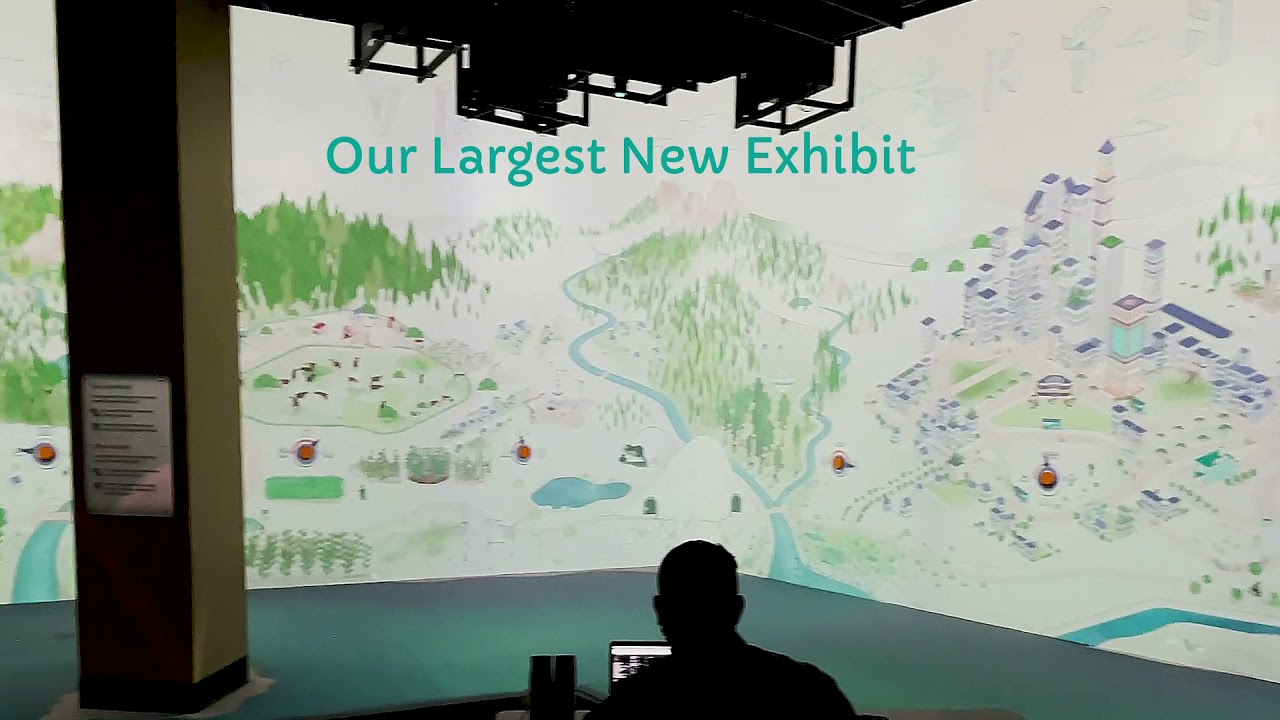 Signature Experiences
Connections Wall

This expansive, immersive entry experience invites you to explore what sustainability means to you. You'll use knobs and physical gestures to adjust a virtual community's recycling, housing, transportation and more. Seeing how they all interconnect will spark discussion and ideas about how to build a sustainable future.

Sustainable Cities

Located in the heart of the exhibition, Sustainable Cities, modeled after iconic Bay Area cities, asks you to design a sustainable city. Make decisions, consider trade-offs and watch your city rise and fall before your eyes!

This exhibit is presented by Ford Motor Company.

Pick + Chews

Come and build a meal at Pick + Chews and learn about the impact of your food choices. Iterate and try to reduce the natural resources it took to make your meal. You'll never look at a burrito the same way again!
More to Explore
Community Voices

A story-sharing exhibit about the impact of climate change in the Bay Area and how everyday people are addressing it. Moving a puck over a 12 ft X 4 ft interactive map allows you to see where in our community the story takes place and triggers an audio story with descriptive images.

Data Visualization

Visitors turn a knob and watch on screen a time progression of the Earth's carbon budget, CO2 concentration (ppm) and global mean temperature. Also presented is a graphical comparison of two temperature scenarios and their impacts on our living environmental systems.

Biodiversity Game

This exhibit is played like the card game concentration, or memory. When cards are matched, visitors learn a fact about how biodiversity benefits people.

The H2O Show

It is one of our most precious resources, but how much do we know about our water? At The H2O show quiz, match wits with your friends and family and gather points based on your water knowledge. Walk away with an ocean of water knowledge — and bragging rights!

Balance of Power

This electrical grid simulation game asks you to juggle power generation and consumption as you shift from consumer to producer and convert the antiquated grid to a smart grid.

Sea Level Rise Future Solutions

An interactive where visitors can imagine and draw ways to help protect areas from sea level rise.

Sea Level Rise

An in-depth look at future sea level rise and how it will impact different areas around the world.

Story Bags

A comfy space where our younger visitors can explore books and story bags that are related to the topics covered in the exhibition.

Scientist Stories

Have you ever wondered about what kinds of things scientists study and what inspires them to learn more? This video series tells the stories of scientists, how they got started, what they study and what they are learning. Step right up and get inspired!

Emerging Technologies

Solve for Earth demonstrates the need for cutting edge tech as a way to reach our goal of living sustainably. The Emerging Technologies video series shares the stories of innovators and how their innovations are changing the world for the better.

Food Waste Fridge

Food waste contributes to greenhouse gas emissions. Explore our real fridge and get tips and tricks that you can use to reduce your food waste. Learn how to store your food, what's in season and what those use-by dates on food mean.