Museos para todos es un programa de acceso emblemático del Instituto de Servicios de Museos y Bibliotecas (IMLS), administrado por la Asociación de Museos Infantiles (ACM) para ampliar el acceso a museos, centros científicos y otras instituciones culturales.
Como parte del programa, The Tech Interactive ofrece boletos de entrada general gratuitos para familias con bajos ingresos. (Películas IMAX de Hollywood y eventos especiales no incluidos.)
Las entradas financian la misión de The Tech y sus programas y actividades educativas para inspirar al innovador que todos llevamos dentro. Estas tarifas no deben impedir que alguien disfrute de nuestras galerías. Si no puede pagar la entrada, puede solicitar entradas gratuitas (hasta 6) para disfrutar del acceso a The Tech Interactive.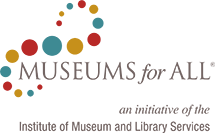 Para reservar sus entradas de Museums For All (Museos para Todos) antes del día de su visita, rellene el siguiente formulario 24 horas antes de su visita. Si va a visitarnos hoy, por favor solicite las entradas de Museums For All en persona en nuestro mostrador de entradas.