Welcome to Polar Play Days at The Tech Interactive, where we're ready to chill out and have some STEM-tastic fun!
Get ready to slip and slide your way into the coolest winter event around.
Check out our Polar-themed exhibits like Glacial Glider where you can build your own virtual roller coaster alongside some penguin friends. Visit The Tech Studio's Just Wing It Winter migration or learn more about NASA's ICEStat-2 satellite to measure sea ice thickness. Kids of all ages will love the Polar Play Zone, exclusive winter activities or feeling like a real astronaut in the Jet Pack Chair. And when you need a break, come to the IMAX Dome Theater to experience some Arctic thrills. Of course, we can't forget about the treats. Our ICEEs will give you that "brrr" factor, and our themed drinks will warm you up in no time.
So don't be left out in the cold! Come to Polar Play Days at The Tech Interactive and get ready for a winter wonderland of STEM-tacular fun that's sure to be a "snow-stopper." We promise it'll be "snow" much fun, you won't want to leave!
Your general admission ticket includes access to Polar Play Days Experience.
Glacial Glider Coaster

Upper Level

Our classic Innovator virtual roller coaster gets a new arctic twist as the Glacial Glider. Design and ride your own virtual roller coaster alongside some snow and some penguin friends!

Frozen Wave Atlas

Upper Level

Frozen Wave Atlas is a vibrant waterworld, which users simultaneously create and discover. The more users interact, the richer and more complex this ecology grows as creatures inspired by arctic marine animals appear with arresting color patterns and astonishing shapes. The experience is controlled with pinch-and-drag hand gestures tracked via Leap Motion sensors and movements via HTC Vive controllers.

ICESat-2 presented by NASA

Lower Level

ICESat-2, part of NASA's Earth Observing System, is a satellite mission for measuring ice sheet elevation and sea ice thickness, as well as land topography, vegetation characteristics, and clouds. Learn more about this fascinating mission and engage with activities on the Lower Level.

Solve For Earth

Lower Level

The Solve for Earth exhibit looks at the whole picture of how individual changes can make a big impact on climate change. Also be sure to check out the reading nook for special books on the polar regions and the animals living there.

Social Robots

Lower Level

Design, build and program a real robot using sensors, controllers and actuators. With so many variations at your fingertips, the possibilities are limited only by your imagination! Can you make your robot help you make a snowperson? Take a photo with your creation and share on instagram — be sure to tag #polarplaydays and @thetechinteractive!

View from Space

Lower Level

NOAA's Science On a Sphere® uses computers and projectors to display visualizations of planetary data on a sphere, analogous to a giant, animated globe. During Polar Play Days learn more about Sea ice, which is monitored closely by scientists because changing sea ice coverage can have a huge impact on the rest of the globe.
Polar Play Day's Hands-on Activities & Labs
Drop into one of our hands-on activities during Polar Play Days. 
Polar Animal Scavenger Hunt
Dive into the icy world of polar animals with our thrilling Polar Animal Scavenger Hunt! This engaging activity promises fun for all ages through the frigid realms of the North and South Poles.
BioTinkering Lab
Open Daily, check Today at The Tech Interactive for the daily schedule.
BioTinkering Lab: Algae String: Design and create your own colorful string using biological building blocks from seaweed and a dash of chemistry. Final products can be used to create festive garlands, snowflakes, and so much more!
Cabbage Paints: Cabbage isn't just for eating! In this activity, explore the color changing properties of paints created from red cabbage. Use your vivid color palette to create your own wintry works of art! Available Dec. 23 - Jan. 7, 2024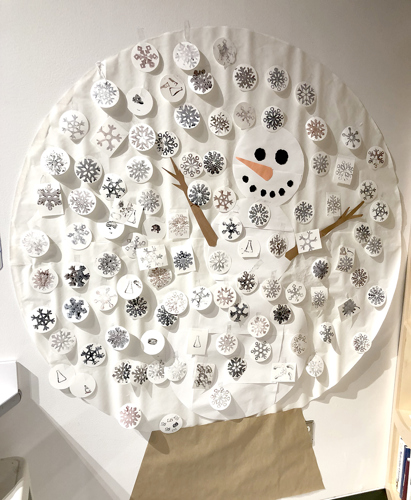 Polar Friends Cookie Cutters

Weekends only starting Dec. 2, everyday from Dec. 26-Jan. 7 excluding New Year's Day closure.

What's better than making holiday cookies? Making holiday cookie cutters! Design and create your own custom cookie cutter to take home. Ages 8+, under 8 must partner with an adult. Guided sessions: 2, 2:30, 3, 3:30, 4. Stop by Tech Studio to pick up a reservation time slot, first come first served.

Just Wing It! Winter Migration

Use your design skills to help escape the cold and find a warmer climate. In this engineering design challenge, participants build and test a flying contraption using a variety of wing structures.

Community Snow Build

Design and cut out a custom snowflake or color a snowperson. Add your craft to our community winter wonderland wall or take them home!

Escape the Yetis

Dec. 5-17, weekdays 10-2, weekends opening to 12:30 p.m.

Navigate a polar maze to escape the treacherous Yetis! Work as a team and use scratch coding blocks to help navigate obstacles and safely reach the other side.

Winter Thaumatropes

Starting Dec. 19, weekdays 10-2, weekends opening to 12:30 p.m.

Learn about early animation techniques then add a seasonal flair to create your own polar themed optical illusion.
Everbright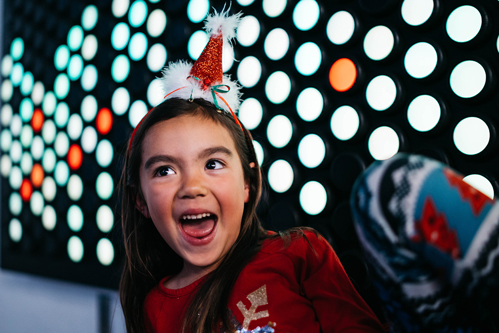 The Everbright is a modern re-imagining of the giant Light Bright, making creativity accessible to everyone.
Gravity Wall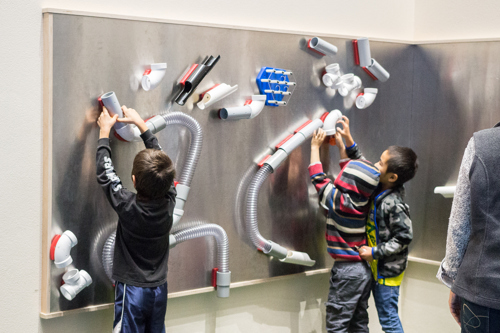 Build a giant ball run on the walls of The Tech Interactive!
Jet Pack Chair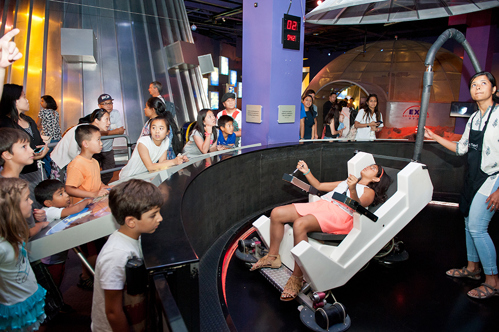 Take a ride in a chair resembling a NASA manned maneuvering unit (MMU). Feel like a real astronaut as you float and navigate your way around an enclosed arena using jets of compressed air.
IMAX Day & Night!
Your Polar Play Days ticket will sweep you into so many worlds! Whether exploring the frozen tundra to the delicious world of chocolate, The Tech Interactive's IMAX Dome Theater is brimming with edu-tainment all winter long! Enjoy a daily documentary as part of your admission to Polar Play Days. Looking for a way to extend your visit? Purchase a ticket to see one of our family friendly feature films this holiday season.
Admission to Polar Play Days includes a ticket to any of our daily documentary films in the IMAX the IMAX Dome Theater. 

See More Films

"Antarctica"

Tue-Fri 12:15 p.m., Sat-Sun 11 a.m. and 2:45 p.m.

It is a land of mystery and yet what happens here affects every single one of us. With never-before seen footage, our story brings audiences to the farthest reaches of this wild and majestic continent. It is the coldest, driest and windiest place on Earth with the roughest oceans and yet, weird and wonderful creatures thrive here in astounding abundance.

"Dinosaurs of Antarctica"

Saturdays at 12:15 p.m. and 4 p.m. | Sundays at 12:15 p.m.

Journey to the south polar landscapes of Antarctica hundreds of millions of years ago. Join Antarctic scientists on a quest to understand the ice continent's profound transformation, and predict the future as humans drive dramatic change.

"Deep Sky"

Saturdays and Sundays at 1:30 p.m.

Where did we come from? How did the universe begin? Are we alone? 13 billion years in the making, Deep Sky reveals the universe as we have never seen it before; immersing audiences in the stunning pictures beamed back to earth by NASA's new Webb telescope — and capturing their vast beauty at a scale that can only be experienced on the giant IMAX screen.

"Happy Feet 2"

Saturdays at 5:15 p.m.

Mumble (Elijah Wood) the penguin, now called the Master of Tap, has an unusual problem: Erik, his son, is reluctant to dance. Erik runs away from home and encounters the Mighty Sven (Hank Azaria) — a penguin that can fly. Poor Mumble can't compete with Erik's unusual new role model. But, when the world is shaken by powerful forces, Erik gets a chance to see his father's true colors as Mumble gathers all creatures great and small to set things right again.
Feature Films
Experience Hollywood Magic in IMAX at The Tech Interactive's Premier Dome Theater!
Looking for a way to extend your visit? Purchase a ticket to see one of our family friendly feature films perfect for the holidays!
*Movies subject to change. Check back for confirmed showtimes and tickets.
"The Boy and the Heron*"

Hayao Miyazaki's first feature film in 10 years, "The Boy and the Heron" is a hand-drawn, original story written and directed by the Academy Award®-winning director. Produced by Studio Ghibli co-founder Toshio Suzuki, the film features a musical score from Miyazaki's long-time collaborator Joe Hisaishi. The theme song for the film Spinning Globe was penned and performed by global J-pop superstar Kenshi Yonezu.




Embark on a whimsical journey into the world of the legendary Willy Wonka! Based on Roald Dahl's timeless classic, "Charlie and the Chocolate Factory," "Wonka" reveals the enchanting tale of how a brilliant inventor, magician, and chocolate-maker transformed into the beloved character we know today. It's a heartwarming, magical, and chocolate-filled adventure perfect for the whole family!

Buy Tickets
Toys for Tots

MISSION
The basic mission of the Marine Toys for Tots Program is to collect new unwrapped toys and distribute those toys to less fortunate children at Christmas.
GOAL
The primary goal of Marine Toys for Tots is, through the gift of a new toy, help bring the joy of Christmas and send a message of hope to America's less fortunate children.
FOUNDATION OVERVIEW
The Marine Toys for Tots Foundation, is an IRS recognized 501(c)(3) not-for-profit public charity which was created at the behest of the U. S. Marine Corps in 1991.
GIVING GUIDELINES
We are accepting donations from Dec 1 through Dec 15
Gently used toys and gifts for children and teenagers
Toys can be given to our Visitor Services staff at the front desk
1 free large popcorn (limit of one large popcorn per party)
Toys for Tots will not accept:
Realistic looking weapons  
Gifts with food