Beautifica Returns to San Jose!
From the creators of the multi award-winning MESMERICA comes a brand-new epic immersive experience unlike any other.
Beautifica is a 360 journey through worlds real and imagined, from mindblowing particle fields to unashamedly euphoric fantastic environments almost impossible to describe. 
There's no better place for this unique experience than our IMAX Dome Theater—the most immersive theater IMAX experience you can imagine!
Upcoming shows:
Getting to Your Seat
60 minutes before showtime - The Tech Interactive's doors open for check in. Please note that The Tech's exhibits will be closed and your ticket only allows access to the IMAX Dome Theater and Beautifica.
30 minutes before showtime - VIP guests have early access to seating 
15 minutes before showtime - General admission seating starts
Additional Information
Due to the dark environment of our theater, please plan to arrive on time and before the show starts. Late seating after the show begins is generally not permitted due to safety concerns and will be at the discretion of the show operator.
Seating is on a "first come, first served" basis. We suggest you arrive early to have the best pick of seating for your group.
Concessions are available for purchase and permitted inside the theater. Please note smoking and vaping is not allowed inside the IMAX theater.
Only service animals with clearly marked harnesses are allowed in the theater.
About the IMAX Dome Theater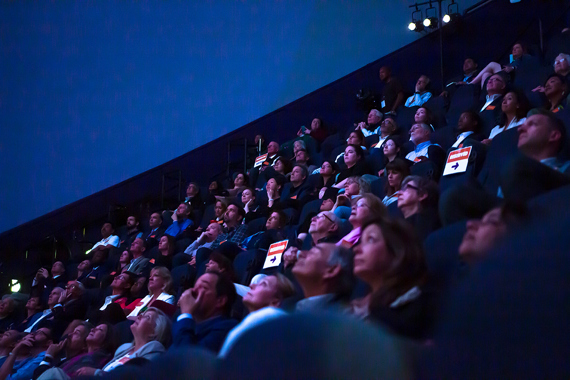 At our 280-seat IMAX Dome Theater you'll see, hear and feel more, with the world's first laser projector for a dome theater, 9,000+ square feet of wraparound image and 13,000 watts of digital surround sound. The IMAX dome experience with a laser projector is technically advanced and visually stunning, a one-of-a-kind movie experience.
Accessibility Information
Accessible wheelchair seating is available at the back of the theater. There are a total of four spaces.
Parking and Directions
Validation for a discounted rate of $5 is available at the following locations:
San Jose McEnery Convention Center (150 W. San Carlos St.) entrances on Almaden Blvd. and Market Street.
2nd and San Carlos Garage (288 S. 2nd St.)
For more information on how to get here, visit: