Press Release:
11-Year-Old Leia Goan To Lead The Tech Interactive as President For the Day
July 20, 2023, San Jose, CA — The Tech Interactive, a renowned science and technology center, is thrilled to announce that 11-year-old Leia Goan has been selected as the winner of its "President for the Day" contest, giving current President & CEO Katrina Stevens a well-deserved break and some coaching from a highly-qualified museum-enthusiast. The contest, hosted by Zigazoo Kids, the largest social network for kids, invited young participants to share their innovative ideas for future exhibits. Leia's submission of an immersive space-themed exhibit earned her the opportunity to serve as President for the Day at The Tech Interactive on July 26, 2023.
Leia's winning entry showcased her passion for science, technology, and the endless possibilities they hold. Her thought-provoking ideas and desire to create an immersive, futuristic exhibit resonated with the judges, making her the perfect choice for this unique honor. As President for the Day, Leia will have a platform to share her insights, engage with experts, and inspire visitors of The Tech Interactive.
"We are thrilled to welcome Leia Goan as our President for the Day," said Stevens. "Her creative ideas and enthusiasm for space exploration align perfectly with our mission to foster innovation and inspire the next generation of innovators. We can't wait to see the impact she will make during her time as President and beyond."
Leia's day as President will include a range of activities designed to provide her with an immersive experience at The Tech Interactive. She will explore The Interactive through an official photo scavenger hunt, have a lunch meeting with President Stevens, interact with visitors, and give press interviews as she takes on the important role of a leader in the world of science and technology.
"I am honored and excited to be named President for the Day at The Tech Interactive," said Leia Goan. "I believe that technology can make a positive difference in our lives, and I can't wait to go to San Jose to see The Tech Interactive and share my ideas with everyone. I hope I will inspire other kids to embrace innovation and explore the endless possibilities that lie ahead."
The Tech Interactive encourages all visitors to join them on July 26, 2023, to celebrate Leia's remarkable achievement and witness the impact of her unique perspective on science and technology.
For more information about The Tech Interactive and upcoming events, please visit thetech.org.

Media Contact:
Katie Barrow, Senior Manager, PR & Marketing Communications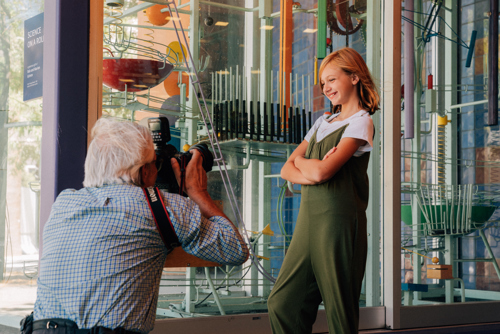 About The Tech Interactive
The Tech Interactive is a family-friendly science and technology center in the heart of downtown San Jose. Our hands-on activities, experimental labs and design challenge experiences empower people to innovate with creativity, curiosity and compassion. The Tech is a world leader in the creation of immersive STEAM education resources to develop the next generation of problem-solvers locally, nationally and globally. We believe that everyone is born an innovator who can change the world for the better.

Inspiring the innovator in everyone.