The Tech Academies Fellowship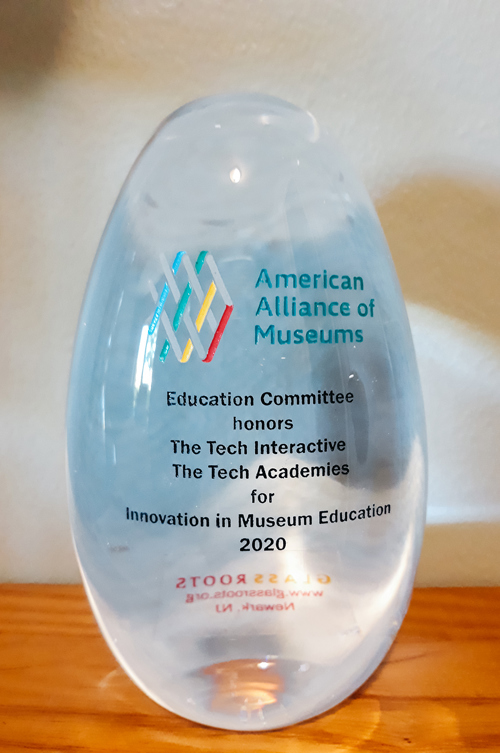 Our Award-winning Fellowship Program
Our award-winning Fellowship program empowers educators in our partner districts, and expanded learning organizations to develop leadership skills and cross-curricular expertise in engineering and computational thinking instruction. This creates a growing network of STEM educator leaders building STEM identity and STEM career awareness in their youth through innovative pedagogical approaches. 
Fellows who complete the program emerge as Engineering Education Leaders (EELs) who have been coached to intentionally integrate STEM into the curriculum and to provide professional development throughout their districts. Each February, 25 educators will be selected by their districts or expanded learning programs to participate in a 12-16 month  Fellowship with The Tech and San José State University's Jay Pinson STEM Education Program.


Fellows gain:
90 hours of quality professional development to become an Engineering Education Leader
Membership in a network of like-minded educators committed to increasing quality engineering education in the classroom     
Professional growth as an instructional leader with requisite expertise to integrate engineering and computational thinking into cross curricular content areas. 
District-supported release time for professional development held during the school year
A stipend upon full completion of Summer Institute requirements
Program requirements:
A two-week Summer Institute, July 15-26, 2024 with an emphasis on completing a pre-selected project customized to the learning needs of your community 
Five half-day Community of Practice meetings over the course of the Fellowship 
An observation related to coaching colleagues on implementation of your Summer Institute project 
A commitment to fulfill around 20 hours of independent self-paced components of the Fellowship over a period of 12-16 months 
A commitment to implement new instructional strategies gained during the program. Districts will select participants by March 25, 2023 for the 2024 Tech Academies Fellowship cohort. If you are interested in being considered for the Fellowship, use the link below to request more information.
View Our Current Tech Academies Fellows
Alum Rock Union School District
Jonathan Tran

School:
McCollam Elemantary School

 

Title: 
Teacher

 

Program:
ME Fellow

 

TA Cohort:
2022-2024
East Side Union High School District
Aaron Cruz

School:
William C. Overfelt High School

 

Title: 
Teacher

 

Program:
ME Fellow

 

TA Cohort:
2022-2024

Danielle Shank

School:
Piedmont Hills High School

 

Title: 
Teacher

 

Program:
ME Fellow

 

TA Cohort:
2022-2024

Mauricio Rangel

School:
William C. Overfelt High School

 

Title: 
Teacher

 

Program:
ME Fellow

 

TA Cohort:
2022-2024
Evergreen Elementary School District
Alex Han

School:
John J. Montgomery Elementary School

 

Title: 
Teacher

 

Program:
ME Fellow

 

TA Cohort:
2022-2024

Mikeal Hanson

School:
John J. Elemantary School

 

Title: 
Instructional Coach

 

Program:
ME Fellow

 

TA Cohort:
2022-2024

Stacey McComas

School:
Holly Oak Elementary School

 

Title: 
Teacher

 

Program:
ME Fellow

 

TA Cohort:
2022-2024
Franklin McKinley School District
Stacy Divine

School:
Shirakawa Elementary School

 

Title: 
Teacher

 

Program:
ME Fellow

 

TA Cohort:
2022-2024
Gilroy Unified School District
Rashonda Butler

School:
Gilroy High School

 

Title: 
Math Teacher

 

Program:
ME Fellow

 

TA Cohort:
2022-2024
Morgan Hill Unified School District
Ashley DeCarlo

School:

Jackson Academy of Math & Music

 

Title: 

Teacher

 

Program:

ME Fellow

 

TA Cohort:

2022-2024
San José Unified School District
Joe Griggs

School:

Hammer Montessori Elementary School

 

Title: 

Teacher

 

Program:

ME Fellow

 

TA Cohort:

2022-2024

Natalie Tejada

School:

Hammer Montessori Elementary School

 

Title: 

Bilingual Special Education Teacher

 

Program:

ME Fellow

 

TA Cohort:

2022-2024

Phuong Duong

School:

Gardner Elementary School

 

Title: 

Teacher

 

Program:

ME Fellow

 

TA Cohort:

2022-2024
Julissa Escobar

School:
Boys & Girls Club SV

 

Title: 
Director of Curriculum & Instruction

 

Program:
ME Fellow

 

TA Cohort:
2022-2024