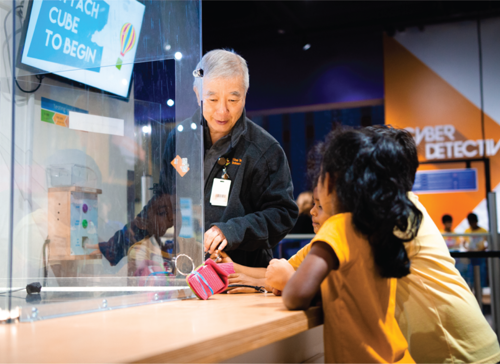 The Heart of The Tech
Each volunteer is a key component of The Tech's mission to inspire the innovator in everyone. We do this through exhibits, content, and programs that encourage hands-on learning. 
Volunteers are required to attend a 75 minute virtual orientation (which can be done from the comfort of your home) and a 2.5 hour tour and training at The Tech Interactive. These trainings are offered twice a month.

Want to learn more? Send an email to volunteer@thetech.org.
Why Volunteer?

"I always have a great time when I come to (The Interactive). ... People are amazing, and I mean everybody: managers, staff and volunteers. I appreciate all you have done for me since I was accepted to be part of The Tech team."
— Mariana Dias
"The Tech, in addition to being my favorite place I have volunteered, has helped me grow in a variety of ways, and I'm honored to have been able to contribute to its enriching community."
— Ansel Blume

"Being a Tech volunteer was the most delightful volunteer experience I have had. Seeing the effort to cultivate science, curiosity and eagerness to learn in young minds is very encouraging."
— Isiksu Buyuker
Volunteer Benefits
Volunteers at The Tech Interactive receive an array of benefits, including:
Free Tech Pass including general admission and educational IMAX film for you (and up to 1 guest)
Free downtown parking (when you are volunteering)
Free soda & popcorn
35% discount at The Tech Store & Cafe

 
Apply to Volunteer With Us
Adult Volunteers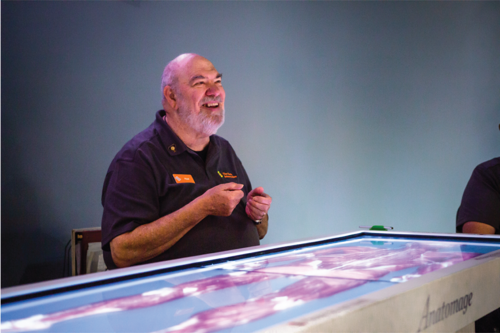 The Tech Interactive is looking for volunteers who are 18 or older. Knowledge of science and technology isn't required, but the desire to help inspire the innovator in everyone is!
High School Student Volunteers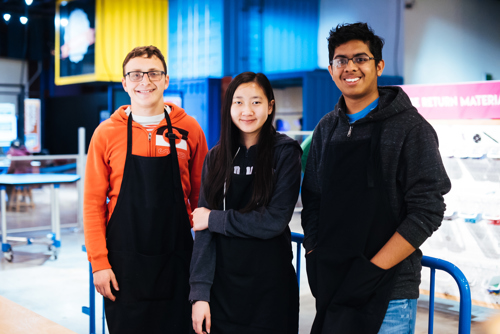 Holiday Helper Applications are open!
If you are at least 15 years old, we are looking for high school volunteers to help us during the holiday season. Volunteers will choose at least five days between Dec. 22, 2023 - Jan. 7, 2024 (excluding 12/25/23 and 1/1/24).

Applications are only accepted until Nov. 26, so don't delay; apply today!
Corporate Groups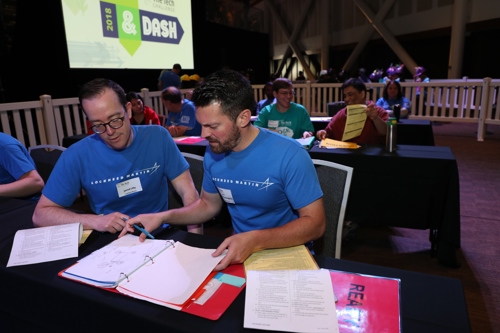 Done-in-a-Day corporate volunteer program: We encourage corporations to bring groups of eight to twelve employees to engage young people in science, technology, engineering and math activities on the museum floor. We have half-day (3-hour) and full-day (5-hour) activities.
Inquire today by contacting Lindsey Munzel. Priority for special activities and dates is given to our corporate partners.
Types of Volunteering Opportunities
Exhibit Interpreter

These volunteers engage and interact with our guests and interpret exhibits and programs. We ask for a minimum commitment of two shifts per month for 6 months; although many volunteers end up staying with us longer.

Visitor Services

These volunteers greet guests as they enter The Interactive and exhibit spaces.  We ask for a minimum commitment of two shifts per month for 6 months, although many volunteers stay with us longer.

Special Events

These volunteers will assist us with various special events for The Tech. Shift days and times vary month-to-month. Volunteer candidates should be flexible and available to help us in the evenings, weekends, and some mornings or afternoons. Volunteer candidates for this position must be able to commit to at least one shift per month for 6 months. Typical duties include: assisting with exhibits, helping facilitate activities (such as craft activities) or greeting guests