The Tech Interactive is a proud participant in Museums for All.
Museums for All is a signature access program of the Institute of Museum and Library Services (IMLS), administered by the Association of Children's Museums (ACM) to expand access to museums, science centers and other cultural institutions.
As part of the program, The Tech Interactive offers complimentary general admission tickets for low-income families. (Hollywood IMAX films and special events not included.)
Admission fees support the mission of The Tech and its educational programs and activities to inspire the innovator in everyone. These fees should not prevent someone from enjoying our galleries. If you cannot afford the admission fee, please request complimentary tickets (up to 6) to enjoy access to The Tech Interactive.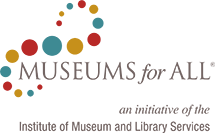 To reserve your Museums For All tickets before the day of your visit, please fill out the following form 24 hours prior to your visit. If you are visiting today, please request Museums For All tickets in-person at our ticket counter.