Upcoming Girl Scout Event!
Confidently You: Building the foundation of your future
A free mentoring event 
This mentoring experience is for 5th-8th grade students only and is hosted in partnership with Miss CEO. This event is limited to 100 registrants.
Saturday May 20, 2023 10 a.m. at The Tech Interactive. *Please arrive at 9:45 a.m. to check-in for this event. 
Are you a Junior or Cadette planning the next steps on your education path? Are looking to earn your STEM Career Exploration badge?
The Tech and Miss CEO can help! This free mentoring event will introduce you to extraordinary professional women working in STEM-related fields. Mentors from companies like Adobe, Deloitte, Intuitive, and more will share their experiences, help you build your brand and teach essential career-related skills.
A special Q&A session for parents and guardians about how to support your child on their path from education to career will also be available during the event. Separate registration is required.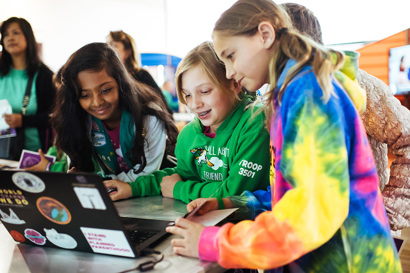 Did You Know?
Girl Scout families save on memberships!
In addition to lots of other great benefits, Tech Interactive members get a $3 discount on each Girl Scout badge program. And, as a Girl Scout, for a limited time you can also get a $10 discount on our Family and Family Plus Memberships.
So, for a family of four, our Family Membership is paid for in less than two visits — even before any discounts on Girl Scout programs! Interested? Purchase your membership here and enter the promo code girlscout. Then, as a logged in member, sign up for any badge programs and receive the discount.
Troop Leader? Call our Membership Team at 1-408-294-8324 for further discounts. 
Note: you must be a current Troop Leader, which will be confirmed with Girls Scouts of Northern California after purchase.
Badge programs require reservations. Purchase tickets by clicking the Girl Scout level above, then choose your desired date and time, or call Group Reservations, 1-408-294-8324. Groups of 10 or more must be booked through Group Reservations. Badge programs have a maximum capacity of 25 Scouts. If fewer than 10 girls have registered two weeks in advance, the program will be cancelled and The Tech Interactive will issue refunds.
Check-in information: Please arrive 30 minutes before the start time of your program to check in and help us ensure labs begin on time.


Chaperone information: When you bring your Girl Scout to a badge program at The Tech Interactive, you can purchase yourself a ticket at the discounted rate of $20 (or $24 for the Robo-Designer programs, which includes an IMAX).
Ticket includes general admission, but it does not guarantee access to the classroom. In line with Girl Scout rules, only adults authorized by the Girl Scouts (troop leaders or troop parents) will be allowed in the classroom. The Tech Interactive uses chaperone ratios required by Girl Scouts of Northern California.
Tickets can be purchased online by clicking on the Chaperones button above then selecting your desired date, or by calling Group Reservations, 1-408-294-8324.
Cancellation Policy: Refunds will not be issued for tickets cancelled less than two weeks prior to ticketed event date.